NEARLY 80% OF THE US POPULATION HAS A HOME COMPUTER OR A LAPTOP. WHY NOT SAVE SOME MONEY AND PUT THAT COMPUTER TO WORK FOR YOUR BUSINESS?
WITH THE EPD GATEWAY, YOU CAN TURN ANY COMPUTER INTO A CREDIT CARD TERMINAL.
Qualify for the best rates – 1.59% swiped
Instantly build an online database of your customers
Process cards from anywhere you have an internet connection
Easily Export Data to Quickbooks
Faster than a credit card terminal
More secure than a credit card terminal
The Easy Pay Direct gateway can turn your computer into a virtual POS system. Simply plug in our swipe device to your USB port and a receipt printer and Voila! You have a full blown (and MUCH more robust) credit card terminal. The USB swipe device allows you to qualify for the best credit card rates and the receipt printer allows for quicker, easier transactions.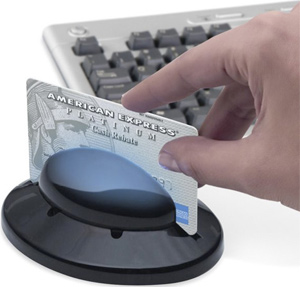 Because processing from your PC allows you to connect directly to the Easy Pay Direct proprietary gateway, it automatically stores all of your customer's information securely. This means that at any time you can run reports on your sales, returns and even customer's locations simply by logging in online. You can also quickly and easily export that data into any email marketing program, financial management system or other software program you need to.
Because you are utilizing an internet connection when you're processing on your PC, your transactions will be faster and more secure. Processing though an IP connection with EPD utilizes a 128 bit secure socket layer connection which is not available with a normal credit card terminal. It also processes transactions 40-60% faster than using a standard telephone line.
MAC COMPUTERS CANNOT CURRENTLY USE THE USB DEVICE – BUT YOU CAN USE PARALLELS…
WHICH YOU SHOULD REALLY HAVE ANYWAY