Chargeback Reason Codes: What's Causing My Chargebacks?
Below you can find all of the chargeback reason codes listed by each credit card company.
If you want to cut down on chargebacks with customized chargeback alerts and upgrade to the best payment processing in the industry, fill out our quick form and get the fastest safe way to process payments.
American Express

Fraud / No Authorization 52.49%

Card Not Present (28.68%)
Unauthorized (13.88%)
Fraud (2.90%)
No/Declined Auth (1.08%)

Products / Services 15.92%

Goods/Services Not Received (8.67%)
Not as Described / Defective (6.21%)
Credit Not Processed (1.04%)

Other 12.02%

Technical (4.20%)
Other (3.31%)
Duplicate (1.23%)
Additional Info Required (0.82%)
Incorrect Data (0.15%)

Liability Shift 11.27%

Transfer Counterfeit Liability (11.27%)

Cancel Recurring Billing 8.30%

Cancellation: Recurring Goods/ Service (5.21%)
Cancelled Recurring Billing (2.23%)

TOP REASON CODE

Chargeback Reason Code F29: Card Not Present (28.68%)
Discover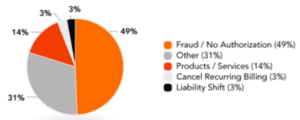 Fraud / No Authorization 49.29%

Fraud (12.55%)

Card Not Present (7.50%)
Challenged Validity (4.01%)

No/Declined Auth (36.74%)

Declined Auth (14.93%)
Unauthorized (8.43%)
Challenged Validity (5.82%)
Other 31.03%

Additional Info Required (14.65%)
Other (10.62%)
Unknown (3.74%)
Technical (1.70%)
Duplicate (0.32%)
Products / Services 13.97%

Credit Not Processed (6.58%)
Goods/Services Not Received (5.52%)
Not as Described / Defective (1.87%)
Cancel Recurring Billing 3.23%

Challenge of Automatic Payments (2.93%)
Cancelled Recurring Billing (0.29%)
Liability Shift 2.48%

Chip Card Counterfeit Transaction (2.48%)
TOP REASON CODE

Retrieval Reason Code 6005: Transaction Documentation Request Due to Cardholder Dispute (14.65%)
Mastercard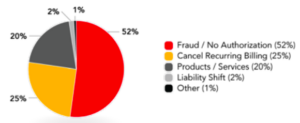 Fraud / No Authorization 51.61%

Fraud (7.62%)

Card Not Present (7.50%)
Challenged Validity (4.01%)

No/Declined Auth (43.99%)

Unauthorized (43.36%)
Declined Auth (0.54%)
Cancel Recurring Billing 25.30%

Cancelled Recurring Billing (25.30%)
Products / Services 19.97%

Not as Described / Defective (7.00%)
Credit Not Processed (6.58%)
Goods/Services Not Received (6.44%)
Liability Shift 1.87%

Chip Card Counterfeit Transaction (1.87%)
Other 1.24%

Incorrect Data (0.54%)
Other (0.36%)
Duplicate (0.20%)
Unknown (0.08%)
Technical (0.04%)
TOP REASON CODE

Chargeback Reason Code 4837: No Cardholder Authorization (43.36%)
Visa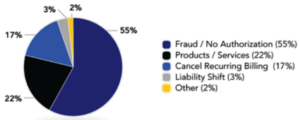 Fraud / No Authorization 55.25%

Fraud (54.72%)

Card Not Present (44.17%)
Unrecognized Charge (5.11%)
Card Present (3.79%)

No/Declined Auth (0.53%)
Products / Services 22.05%

Credit Not Processed (11.59%)
Goods/Services Not Received (5.75%)
Not as Described / Defective (4.71%)
Cancel Recurring Billing 17.38%

Cancelled Recurring Billing (17.38%)
Liability Shift 3.46%

Chip Card Counterfeit Transaction (3.46%)
Other 1.86%

Technical (0.66%)
Duplicate (0.54%)
Incorrect Data (0.23%)
Other (0.21%)
Additional Info Required (0.18%)
Unknown (0.03%)
TOP REASON CODE

Chargeback Reason Code 83: Fraudulent Transaction – Card Not Present (44.17%)