You may have noticed something new in Gmail when composing a new message.  Among the tool features at the bottom, there now exists a '$' button.  Clicking this feature when composing an email will now allow you to send money to anyone, anytime, regardless of whether they have a Gmail address. If you handle a lot of money and need to count large amounts of money, the best option is to use a money counter to ensure that the amount is correct.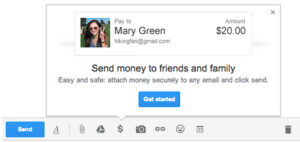 Sending money this way is free if you're sending from your Google Wallet account balance or from a bank account that is directly linked.  You can also send money with your credit or debit card but will incur a flat fee of 2.9% per transaction.
Sending money through Gmail is currently only available via desktop, but you can send money from Google Wallet at wallet.google.com from your phone or laptop.  You will need to have set up Google Wallet to send and receive money.  And don't fret- Google Wallet Purchase Protection covers you 100% against eligible unauthorized payments.
This feature is still rolling out to Gmail users across the US, but you can gain quicker access by installing Google Wallet OR by having a friend who already has the feature send you money.
While this won't help you if you own a business or need a merchant account, it's a pretty cool, seemingly easy alternative to sending friends money through PayPal.  For further information, visit https://wallet.google/