As a business owner, you'll need to know how to accept credit and debit card payments from your buyers. This requires merchant services. 
Merchant services, also known as card processing services, are designed to set a business up to handle card transactions. When choosing the correct merchant processing service for your business, the first step is to make a decision on how your business will accept payments, then stock up on the technology needed to process transactions.  
Understanding how merchant processing works is key to running a successful business and reducing the customer effort around the payment process. Not only will this ensure a smoother purchasing experience for your customers, but it will reduce the risk of cart abandonment, boosting the number of sales.
If you're new to the world of merchant processing, this guide covers all the essentials, helping you choose the best services for your business. 
What are Merchant Services?
Merchant services is a catch-all term describing financial services specifically for businesses. These financial services include processing payments, creating payment gateways, and building loyalty programs for customers. 
Most merchant services include the following:
Point of sale systems (POS) and credit card terminals that let a business take card payments and process sales. Both POS and credit card terminals are physical devices with in-built software that allows customers to easily swipe their cards to pay.

Credit card processing services (both online and in-person) so the business can accept card payments.

Payment gateways that use software that enables a website or online store to take payments. Most merchant services also offer online transaction processing that uses software to manage orders and keep track of stock levels.

Loyalty programs that are designed to automatically offer a reward to customers who purchase specific programs or who are repeat buyers.
Now that you're clear on what merchant services are, it's a good idea to get to know the benefits they offer. 
The Benefits of Merchant Services
Any business selling a product or service needs merchant services to accept card payments from customers. 
Aside from being essential in facilitating payment transactions, merchant services offer several other benefits to your business and customer base. Below are the top benefits of using merchant services:
Merchant services provide an easy way for businesses to track transactions through a record management portal.

Offering customers different payment options makes for a better customer experience, boosting satisfaction and creating a base of loyal repeat customers.

Merchant services open the door for an international customer base by letting potential customers make payments from anywhere in the world.

The merchant processing industry has strict standards and regulations in place, reducing the risk of a business losing money on fraudulent transactions.

If your business currently still accepts cheques, cheques generally incur a higher processing cost than cards.
The world is moving away from cash payments bit by bit. The bottom line is that merchant processing facilitates this shift towards cashless transactions, making it easier for your customers to pay you and increasing your bottom line. 
Different Types of Merchant Solutions
There are plenty of merchant processing options on the market right now, so choosing the right type for your business depends on how your business accepts payments from customers. 
Below are the different types of merchant solutions available for your business.
Payments for Online Transactions
If your business needs a payment system that accommodates online transactions, there is a wide range of card payment solutions to choose from. These solutions facilitate card transactions on a website either by hosting the payment page on the business' website or on the provider's site, depending on budget and needs. 
It's always better to host the payment page on the business's website for the customer's convenience, although this is more costly. 
Payments for In-Person Transactions
For businesses that have a physical store or offer mobile services, an in-person payment solution is needed. This comes in the form of an electronic point of sale system (EPOS) that uses chip and PIN technology to enable businesses to securely take card details. 
There are different types of EPOS systems, such as static terminals for shops and other businesses that use a checkout till, portable ones for restaurants and bars where customers pay at their seat, and even mobile ones for businesses that offer services outside of a physical building, like taxi drivers or tradespeople.
Payments for MOTO Transactions
If a business takes payments over the phone or via mail (MOTO), virtual terminals offer an online portal for secure payments
If you're still unsure which services your business will require, the next section breaks down the most commonly needed merchant services. 
Understanding the Merchant Processing Process
All businesses that want to accept card payments need a merchant account and a payment gateway (as well as a shopping cart or eCommerce platform if it's an online shop). If merchant processing is new to you, it's essential that you get to know how the payment process works. 
Below are the steps that customers take when they buy something online. 
The customer lands on the checkout page and enters their card details to make their order. At this stage, the customer's web browser sends the customer's encrypted details to the web browser of the online store.

The business's web browser now encrypts the customer's details and sends them to the payment gateway.

The verification process starts as the payment gateway sends the customer's details to the payment processor used by the business's bank.

An authorization request is sent to the customer's card issuer to check the details. At this stage, fraud checks are carried out and the card association checks that there is enough money in the customer's account. A coded reply is then sent to the payment processor either authorizing or denying the transaction.

The payment processor, in turn, sends this response to the payment gateway.  It is then passed on to the checkout page to notify both the customer and business that the payment has been authorized.
While this might seem like a lengthy process, this all happens in around two or three seconds. 
After the business sends the order to the customer, the payment goes through and the card issuer sends the money to the merchant account. The merchant account will deduct a small fee for each transaction before depositing the remainder of the money into the business's bank account. 
Setting up a merchant account is simple. It can be done through either a bank or an independent sales organization (ISO). Most banks provide some type of merchant account, but ISOs tend to offer better prices. 
If you're looking for a payment gateway, you have two options. You can either look for a merchant account provider that also offers payment processing services or contract a third-party payment service provider (PSP). 
Once you've done your homework and you understand what merchant services are and how they work, you'll need to choose a provider that best suits your business needs. Here are some key points to remember when choosing a merchant services provider.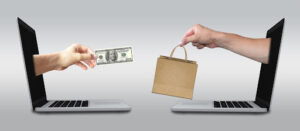 Choosing a Merchant Services Provider
A merchant service provider gives your business the tools it needs to take payments easily. It offers software and hardware designed to make your payment process efficient, secure, and hassle-free for your customers, adding a lot of value to your business. But how do you choose the right one? 
When it comes to choosing a merchant account provider and PSP, think about the questions below:
How big is your business and what type of payment process is optimal?
The size of your business is an incredibly important factor in choosing the right merchant service. 
Banks usually ask for a credit history check and require the business to go through a lengthy application process before they will offer a merchant service. For this reason, small businesses or those just starting out might be better opting for ISOs that cater to small and high-risk businesses.
How many sales do you expect per month?
This is an important consideration when choosing a provider because most providers have several pricing plans to choose from. 
As a rule of thumb, as the number of sales you make increases, processing fees will decrease. If your business is small or just starting out, it may make sense to go with a provider that caters to small businesses by offering more affordable fees for lower sales volumes. 
What type of payment transactions does your business take (online, MOTO, in-person)?
Always consider who your customers are, where they are, and how they want to pay. If, for example, you run an online shop and only need online merchant services, look out for providers with plans specifically for this business profile. 
There's no point in paying for a bundle of services that aren't compatible with how your business operates. On the flip side, if you want flexible payment options for your customers, a package that supports all transaction types, including the hardware, might be the best option for your business.
How does the cost of the merchant service compare with your predicted volume of payments?
Pricing is always going to be one of the driving factors when choosing a provider. Take your time to research exactly what is included in each pricing plan, what's extra, and what discounts are available to you.
What are the pain points with your current payment system?
If you have an existing payment system and you are looking to upgrade, keep in mind what doesn't work well in your current one. 
Let's say your current payment system only accepts cash and cheques. Your customers may find this inflexible as they don't carry cash. Offering card payments and online transactions will offer an actionable solution to this problem, giving your customers the flexibility to pay via several different methods.
By taking these questions into consideration when you make your decision, you put yourself in a good position to choose the best provider for your business as well as reduce the risk of any nasty shocks such as hidden costs or a plan that doesn't cover all your needs.
Key Takeaways
Merchant processes open up a new realm of possibilities for your business, allowing you to expand your customer base to global markets and grow a community of loyal customers by offering top-class service and easy payment methods. 
Choosing the right merchant service provider for your business is an important decision to make. It's wise to do some research and weigh up your business needs and what each provider offers.
Look out for hidden or extra costs outside of the price quoted, shop around for a provider that processes payments quickly, and be 100% sure that the provider you choose has a great help desk to aid you in resolving any roadblocks you bump into along the way. 
Merchant Services at Easy Pay Direct
Easy Pay Direct is your ultimate solution for all things merchant services-related. We're here to help, and if you're in a high risk industry, that's even better. 
That's our specialty. 
Contact us today and we'll talk about the best solutions for your needs.