Credit card terminals cost money.  There's no way around that.  However, we are in the business of credit card processing – not making money on credit card terminals.
We give all of our clients five options:
We can setup a new Tablet POS System – really the way to go
We will sell you a credit card terminal at our wholesale price
Use your existing credit card terminal
We will lend you a brand new credit card terminal to use while you're processing with us
You swipe cards with a USB device that plugs in to an iPhone, iPad, iPod or any Computer
Terminals are dated.  Period.  Even the brand new ones have less memory than a graphing calculator.  They also never last very long.  New technology is emerging constantly.
With Tablet POS systems, the hardware is sleek and fun – but the power is in the software. Analytics, integrated loyalty programs, inventory management, easy to use interface… and so much more.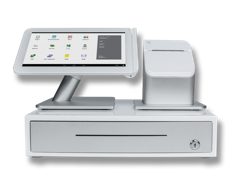 TONS of data at your finger tips
Integrated gift and loyalty
Inventory management
Easy to use interface
Apple Pay & Google Pay Ready (NFC enabled)
WHOLESALE TERMINALS:
We can integrate with nearly every terminal on the market.  If you have a terminal you like, we can reprogram it over the phone so you can continue using it.
If you are ready for a new terminal, we keep a variety of terminals in house, but suggest the PAX S80.  Without question, at $219, it has the most bang for the buck.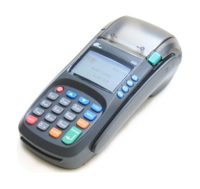 PAX S80
EMV Compliant
Apple Pay & Google Pay Ready (NFC enabled)
IP connection (dial up as a backup)
More than one business can use the terminal (Multi Merchant)
Gift Card Ready (Multi Application)
FREE TERMINAL PLACEMENT:
Ultimately owning your own terminal gives you the most flexibility and will save you money in the long run.  For many merchants, saving a couple hundred dollars now is priceless – so we offer our free terminal placement to get merchants up and running quickly.
So if you don't want to shell out $265 on a new terminal, we'll give you a brand new PAX S80 to get you up and running.  Of course all credit card terminals cost money – but as long as you give it back (in working order) you're done with it, it won't cost you a dime.  Keep it as long as you like – we're here to make life easier.
PROCESS WITH YOUR COMPUTER OR SMARTPHONE:
Have a store front and want to process everything on your laptop or desktop machine?  We can help you swipe cards and get them into your accounting software at the same time.
If you aren't doing more than 10-20 transactions a day, processing directly on your PC can be a GREAT solution.  You can plugin in a USB swiper to your computer (or a smaller device to your smart phone) and all the information will run directly to your gateway.
Having all transactions go to your gateway keeps everything in ONE place.  No more importing data to quickbooks, dealing with paper statements or tracking down transactions in multiple systems.  It's all in one easy place. We make this easy.
Equipment we stock:
MagTec iDynamo
MagTec USB Swipe
EQUIPMENT WE ARE COMPATIBLE WITH:
All Nurit Terminals
All Omni terminals
All Verifone Terminals
All Hypercom terminals
All PAX terminals
All First Data Terminals
All POS systems
Trans terminals