AUTOMATED RECURRING PAYMENTS
ENJOY GETTING PAID WITHOUT EFFORT. SET IT AND FORGET IT IN 54 SECONDS.
---
Your content goes here. Edit or remove this text inline or in the module Content settings. You can also style every aspect of this content in the module Design settings and even apply custom CSS to this text in the module Advanced settings.
BUILD LOYALTY WITH CLIENTS
 Automatically deduct from a credit card, or bank account
IMPROVE CASH FLOW
 On average our merchants get paid 14 days sooner when they use recurring billing
STOP AND START PAYMENTS AT ANY TIME
 With the click of a mouse, you can turn on or off a payment schedule
SAVE MONEY AND TIME
 Stop spending your time billing clients
 Stop paying employees to charge your clients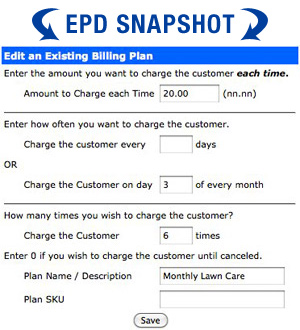 QUESTIONS? A LIVE ACH MERCHANT ACCOUNT SPECIALIST CAN HELP YOU FIGURE OUT THE BEST SOLUTION FOR YOUR BUSINESS. CALL US AT 800.805.4949
Recurring billing will automate the process of putting your client's money into your bank account. With recurring billing you can set up a custom schedule of when you want to charge your merchants and how much you want to charge them and the Easy Pay Direct system will do the rest. The system will automatically charge their credit card or ACH their bank account and deposit the funds directly into your account – without you doing a thing. You can set the system to charge every day, week to week, month to month or beyond. It offers the flexibility that allows business owners "set it and forget it". It even sends an email to your clients letting them know that they are being charged.
Recurring Billing is used for many purposes – and it just makes getting paid easier. Whether it's a monthly subscription services, a membership fee, to create a payment plan for a larger item or for a variety of payment needs, automating your billing process can have a wide variety of advantages. Recurring billing can build customer loyalty, enhance customer service, reduce administrative expenses and actually reduce how often you run into declined cards.
When was the last time you went to your mailbox and thought "I don't have enough bills to pay"? Your clients don't have that thought either. Many clients prefer the no hassle approach of automated recurring billing. But it's not only great for your clients… …In a recent survey, we found that on average, business owners get paid 14 days faster when their clients are on a recurring billing schedule.
Automate Your Invoicing and Collections
More than 80% of failed businesses in the United States site cash flow problems as their core reason for failure. The more you can do to move your business towards fully automated billing, invoicing and collections, the more consistent your cash flow will be. Recurring billing can stabilize your business while giving your clients a convenient method to pay. The best part about Easy Pay Direct is that you can set up recurring invoices that your clients can pay automatically, OR recurring credit card processing and ACH bank drafts that automatically deposit money directly into your business bank account.
Not only is this an easy way to stabilize your business, it is also a much easier way to manage your whole invoicing and collections process. Why manage employees to do something when you can have a fully automated system do it for you? Less Time, Less error, Less expensive.
Save Money and Save Time
With an online recurring billing platform it saves time for both you and your customers. Of course, you'll save money if you're not paying an employee to invoice customers every week or month, follow up with them and track down their payments. That might mean one less hourly employee, or at least a few hours every month that could be used more productively. Perhaps more important is how much more accurate and efficient your invoicing and collections will be with online recurring billing.
With the Easy Pay Direct system you have the ability to know exactly when you'll be paid every month. You will never have any errors in billing. You will have a much easier time tracking payments. At a glance you will be able to view all payments from as many or as few clients or customers as you'd like. All with a couple clicks of the mouse – and from any computer.
Build Loyalty With Clients
We have moved from the industrial age into the information age. Along with that, we have moved from simply supplying a product or service to now needing to differentiate with value added services. The companies that make their clients lives easier are the ones who continue to grow and attract more business.
Recurring billing software makes your client's lives easier. We all have far too much mail, far too little time and far too many important things in our lives. Whether its kids, family, sports, reading or just sitting in front of the television, everyone has things they'd rather do than pay bills. By using the EPD recurring billing gateway your clients can spend their time how they want to – taking care of their payments without spending time paying bills.
Improve Cash Flow
There's no secret – if you set a time to deduct from a customer's bank account or credit card, you will be paid on time, every time. This means there's no more "check in the mail". This means a balance in your business bank account that you can rely on.
What you may not know is that business owners who use EPD get paid an average of 14 days faster than business owners who don't. For years phone companies, mortgage companies and utility companies have been using recurring billing. It has helped some of the largest companies in the world maintain a steady cash flow. Isn't it time it helps your business too?
Stop and start payments at any time
Do you want to break up a $1000 and charge your customer's card $250 a week for a month? No problem. Or maybe you have a gym and you want to charge a $49.95 membership fee every month. Done. You can set up any recurring billing schedule you want and it can be altered at any time.
Maybe you own a gym and one of your gym members breaks a leg and they won't be in for a couple months. You can easily pause their account while they are hurt and simply un pause the account when they come back – all with the click of a mouse.
Once you sign up with Easy Pay Direct, you'll automatically have a recurring billing account. There's no extra monthly fee and no extra forms to fill out. We aren't asking you to download any recurring billing software, or pay for a subscription software – everything is included, online and accessible from anywhere. Easily. It's included in your $34.95 a month and is built right in for you.